Around Thanksgiving last year (2016), I started battling some new medical problems that meant taking leave from work. I'll write about that experience at some point, I imagine, because I have some thoughts about it. However, I wanted to break my writing hiatus by chronicling some of what I've done in the intervening time. I had to get creative to keep the boredom at bay.
Books
The library's digital collection has been invaluable, especially when I couldn't get out of bed. These are some of the books that I read – most in the last five weeks:
Fiction
I had a reading list a mile long prior to leave, but I misplaced it. So thanks to a lot of recommendations from a wide variety of folks, I had a good selection of books to choose from. It's interesting to me how my tastes have changed over the last decade, but I enjoyed each of these for different reasons.
Nonfiction
I couldn't put Lindy West's Shrill down until I finished it. I had the chance to see her read excerpts from it at Town Hall Seattle a while back, and enjoyed the rest of the book immensely. Raw, powerful, and honest. Mindy Kaling's books were entrancing in a different way, and I thoroughly enjoyed the tale of her "road not taken" as a Latin teacher – especially as I have similar vignettes that play out in my own head.
Professional development
Camille's book had sat on my side table for months, and was the first book I read once I could again. While I don't manage anyone, I care very much about other people's path towards success, and occasionally mentor. It's already been invaluable as I prepare to return to work. It's a book that I'll read again, but this time with a pen in hand.
Music
When I was 16, I actually thought I'd be pursuing a career in music. I took piano for seven-ish years, and trained vocally for four. It's been on the back burner for ages though, so I picked up the Alfred Adult Piano books and worked my way through the first and most of the second.
I also picked up this beauty, and started teaching myself guitar. I am terrible, but having a lot of fun with it!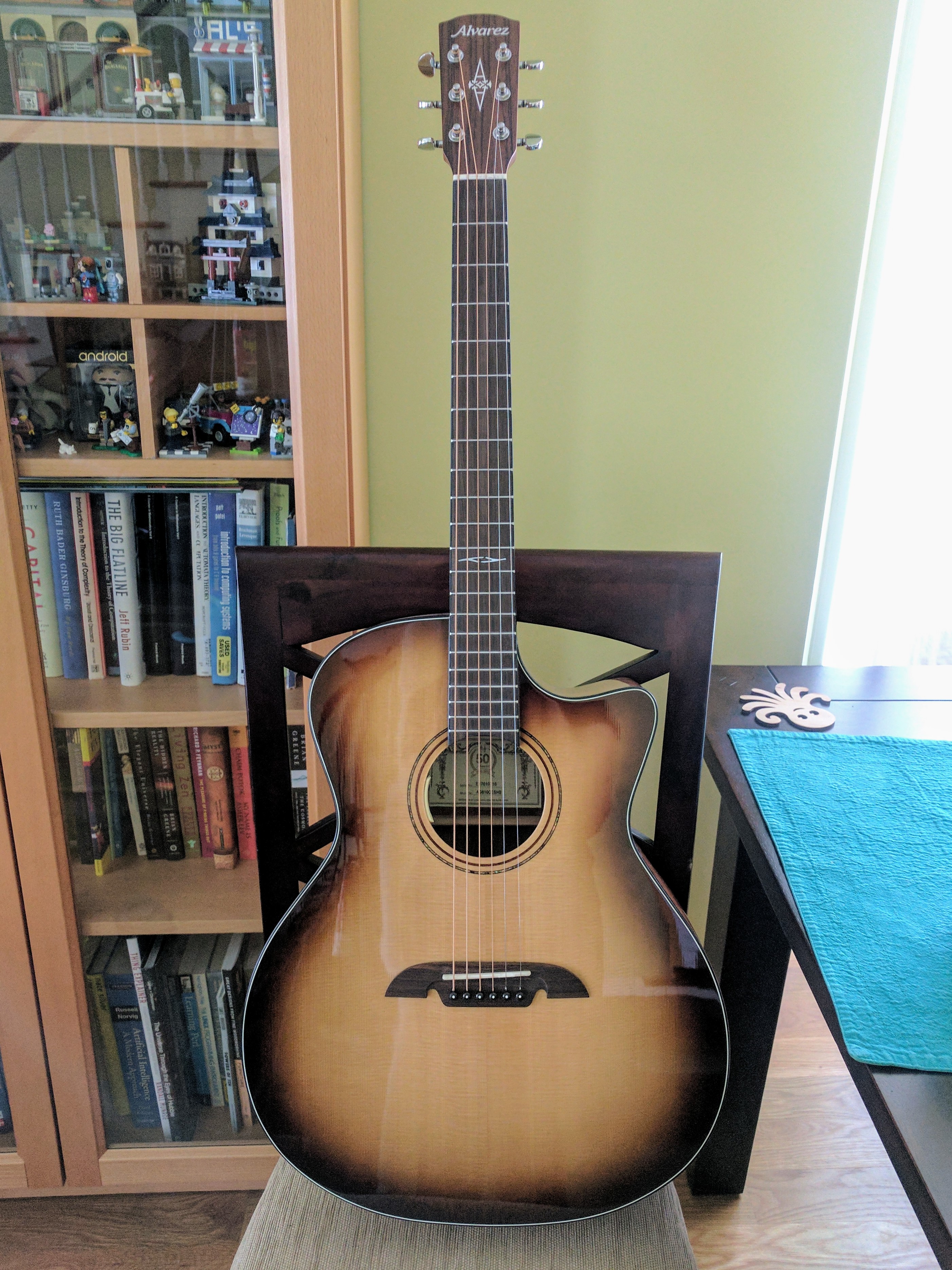 Alvarez Acoustic Guitar
From an appreciation standpoint, I've also listened to a few dozen albums in their entirety that for some reason or another I haven't been exposed to before. Currently, they've ranged from electronica to folk to rap, from the 1960s to now. If you have suggestions, let me know!
Baking and Cooking
I'll admit, I'm one of the people who got inspired by the Great British Bake Off and started trying new recipes. Most notably was my attempt at mini tarte au citron, which came out perfectly according to my taste buds.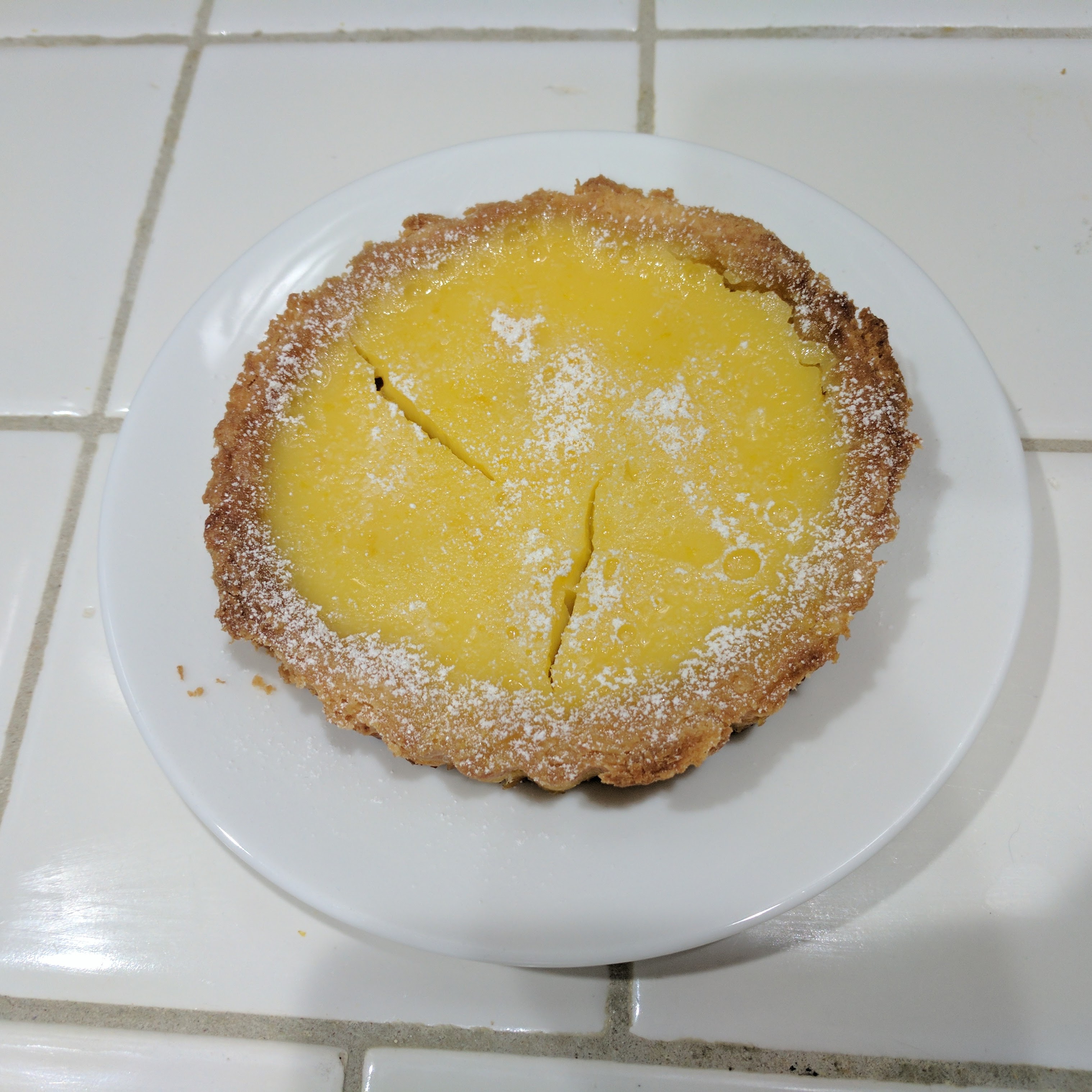 Tarte Au Citron
I also tried a new cold brew method, experimented with strawberry tarts, made some zucchini muffins, bought in to the one-pan-meal craze, embraced my love of fennel, and made some brownies that were so dark that I got most of the tray to myself.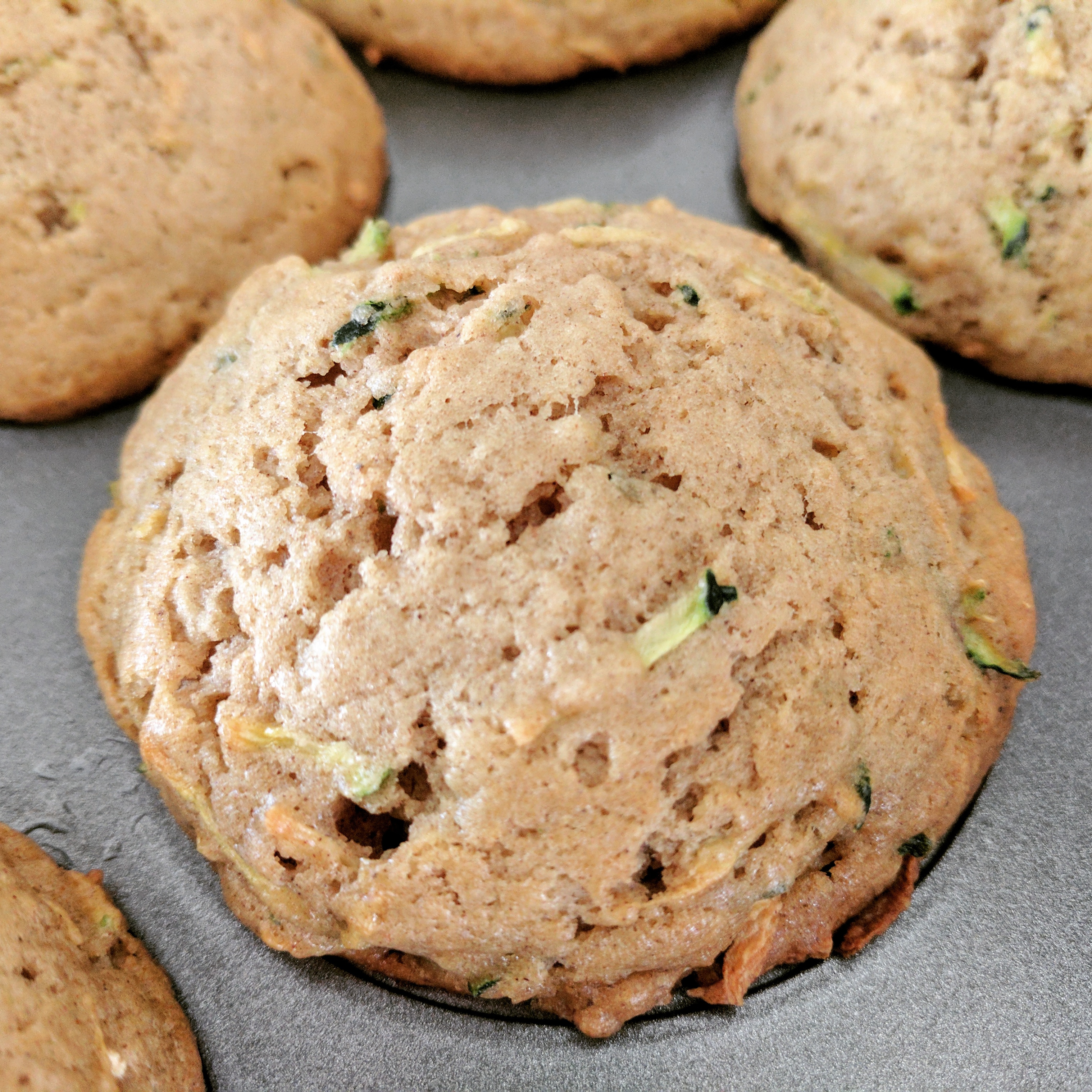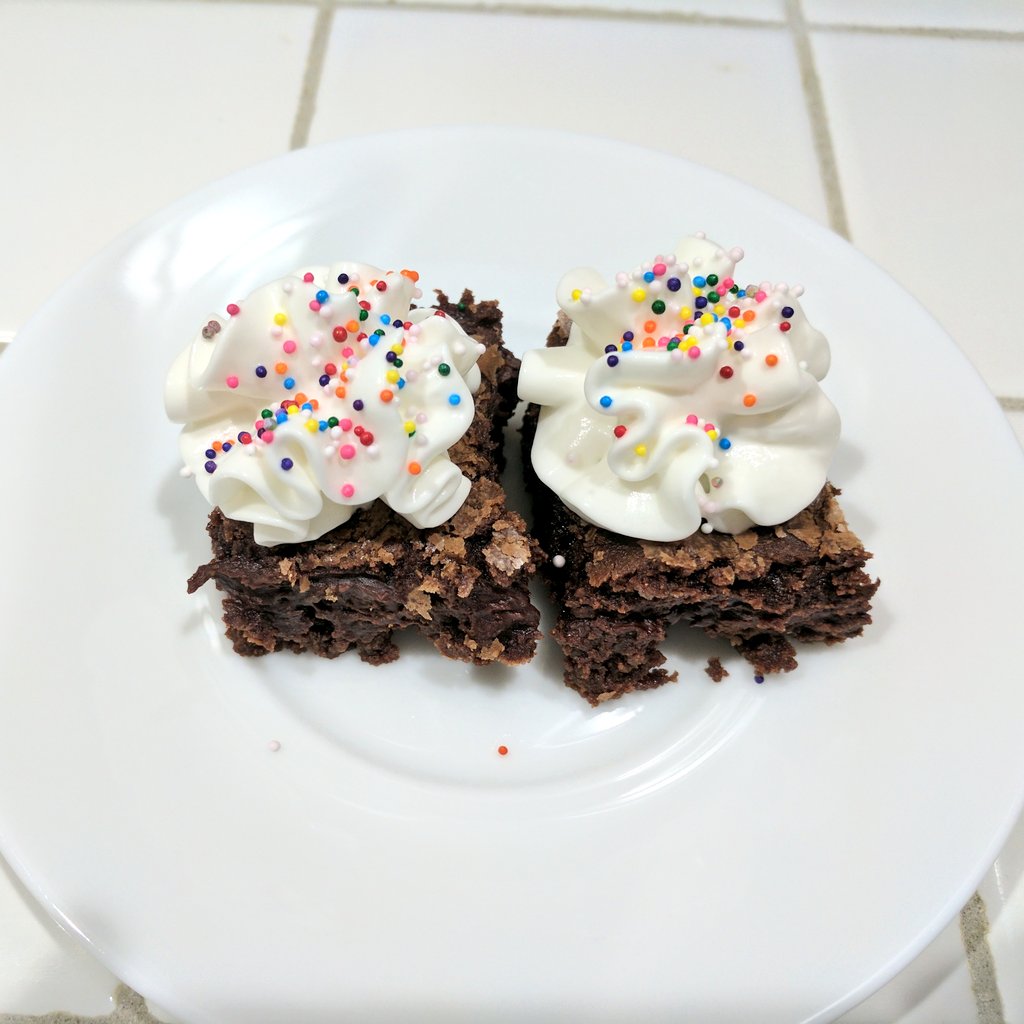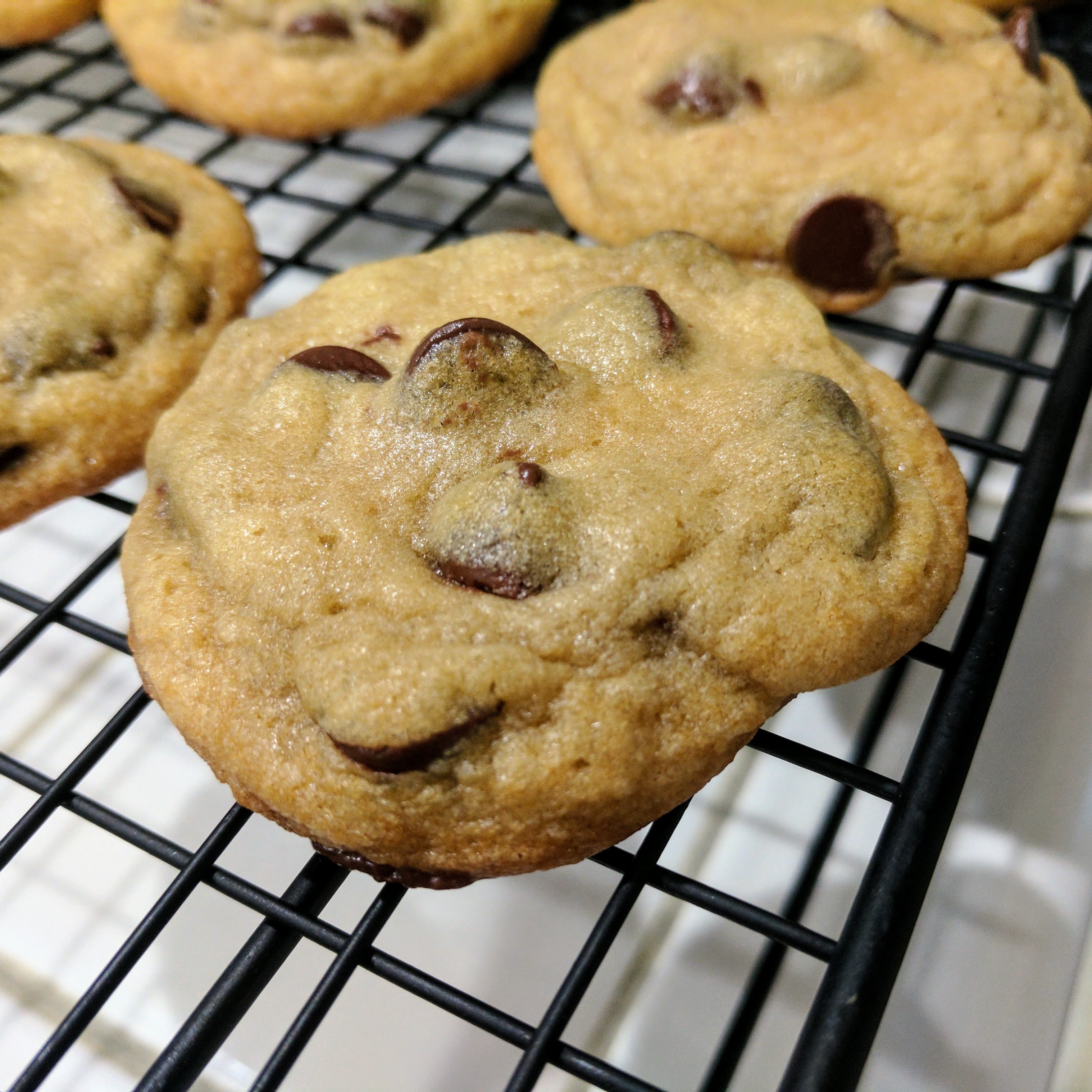 Zucchini Muffins
Super Dark Brownies
Chocolate Chip Nomness
Crafting
I'm an accomplishment junkie. It's been the hardest part of having such debilitating physical limitations. So I've used the opportunity to try new things and make some stuff that ordinarily I wouldn't have time for.
I turned some vanilla tea lights into faux mercury-glass. They chip easily, but I got creative with the swirling patterns.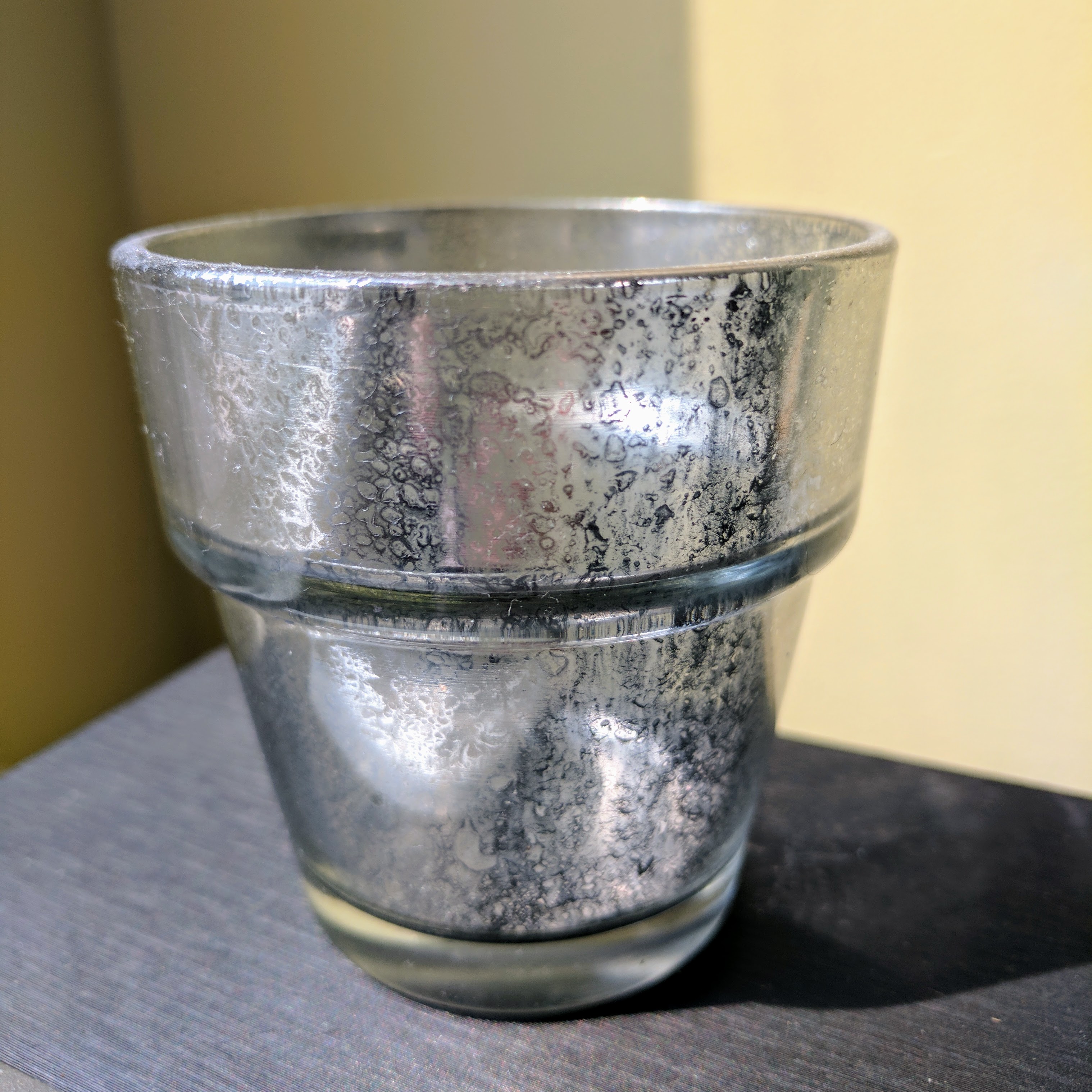 Faux Mercury Tea Lights
After a failed experiment with aluminum wire and springs, I repurposed the wire and tried my hand at shaping it into words. (Easy mode: print out your words and "trace" them with the wire.)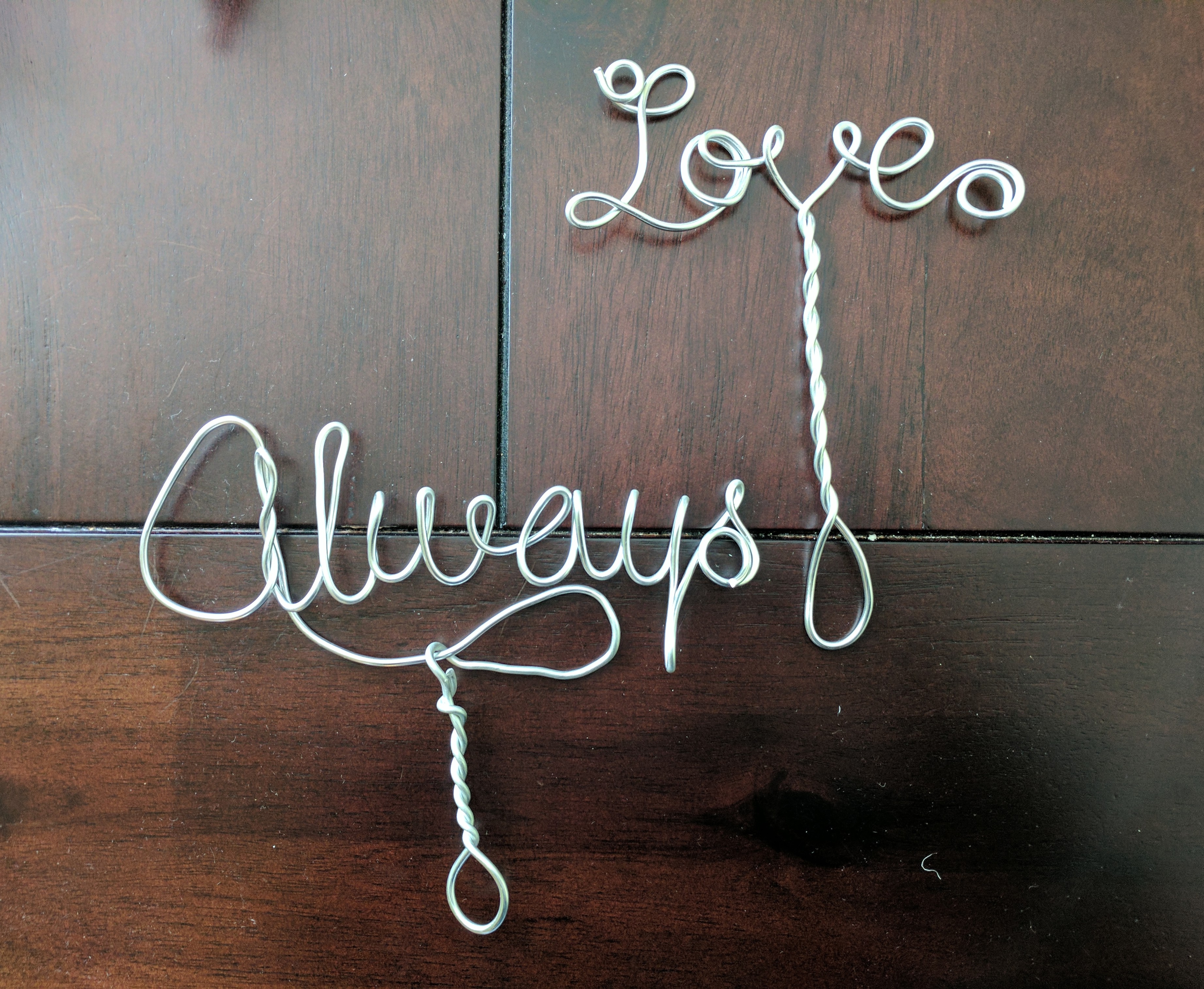 Always Love Wire
This one took the longest time. I wanted to suspend the invitation in the middle of the frame, using braided, dyed hemp. Some hot glue secures the invitation to the braid, and nails behind the frame keeps the braid in place. All of it sandwiched between plexiglass (that I'll replace with real glass sometime, because plexiglass is a pain in the ass).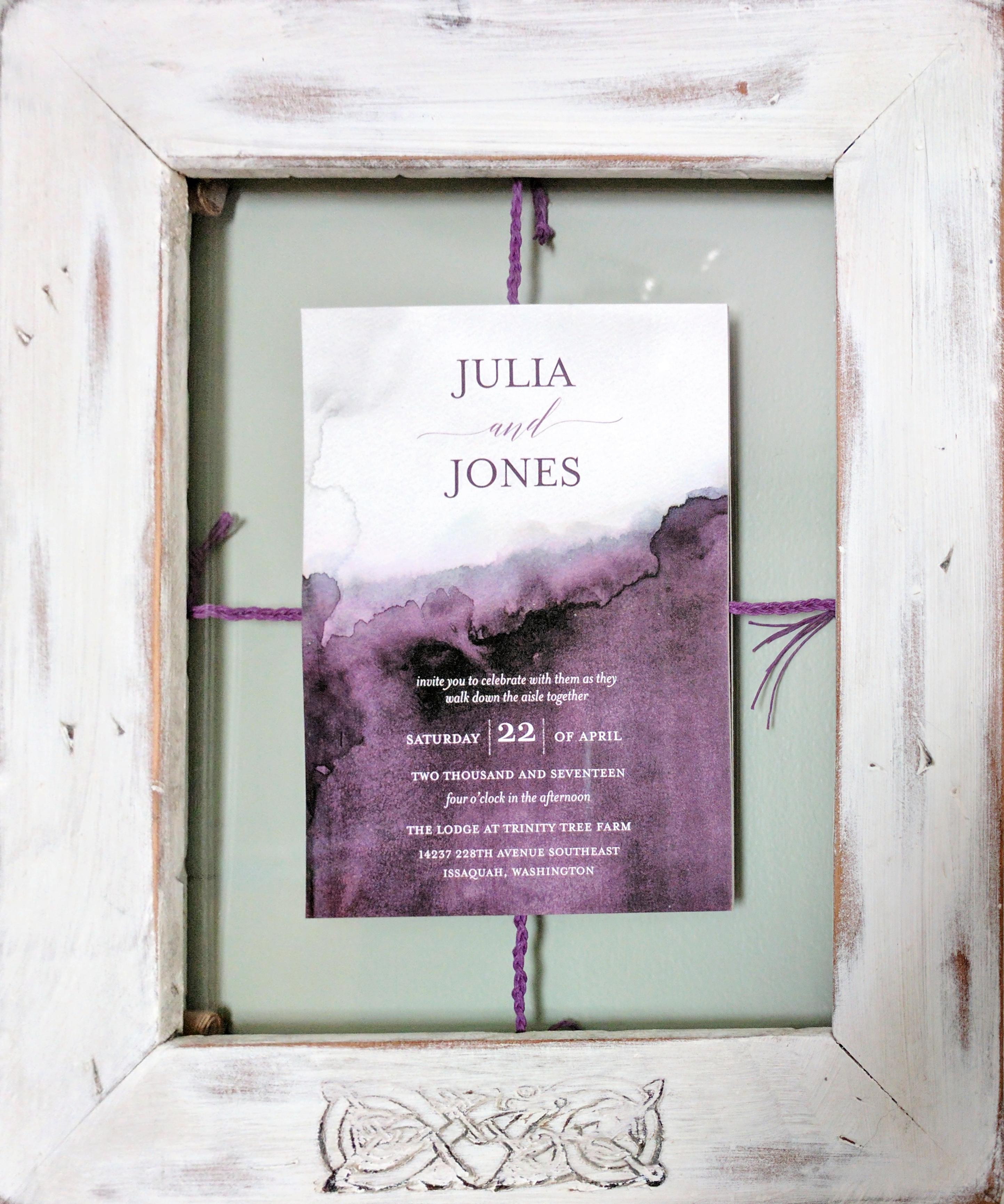 Framed Wedding Invitation
Habits
When you don't have regular obligations beyond doctor appointments, it's difficult to remain motivated. I experimented with several different approaches (Google Keep lists, Trello, Goal Tracker & Habit List) before finding Habit Tracker from Loop. It was really helpful to give myself a bit of a routine and a sense of accomplishment – without getting obsessive about it.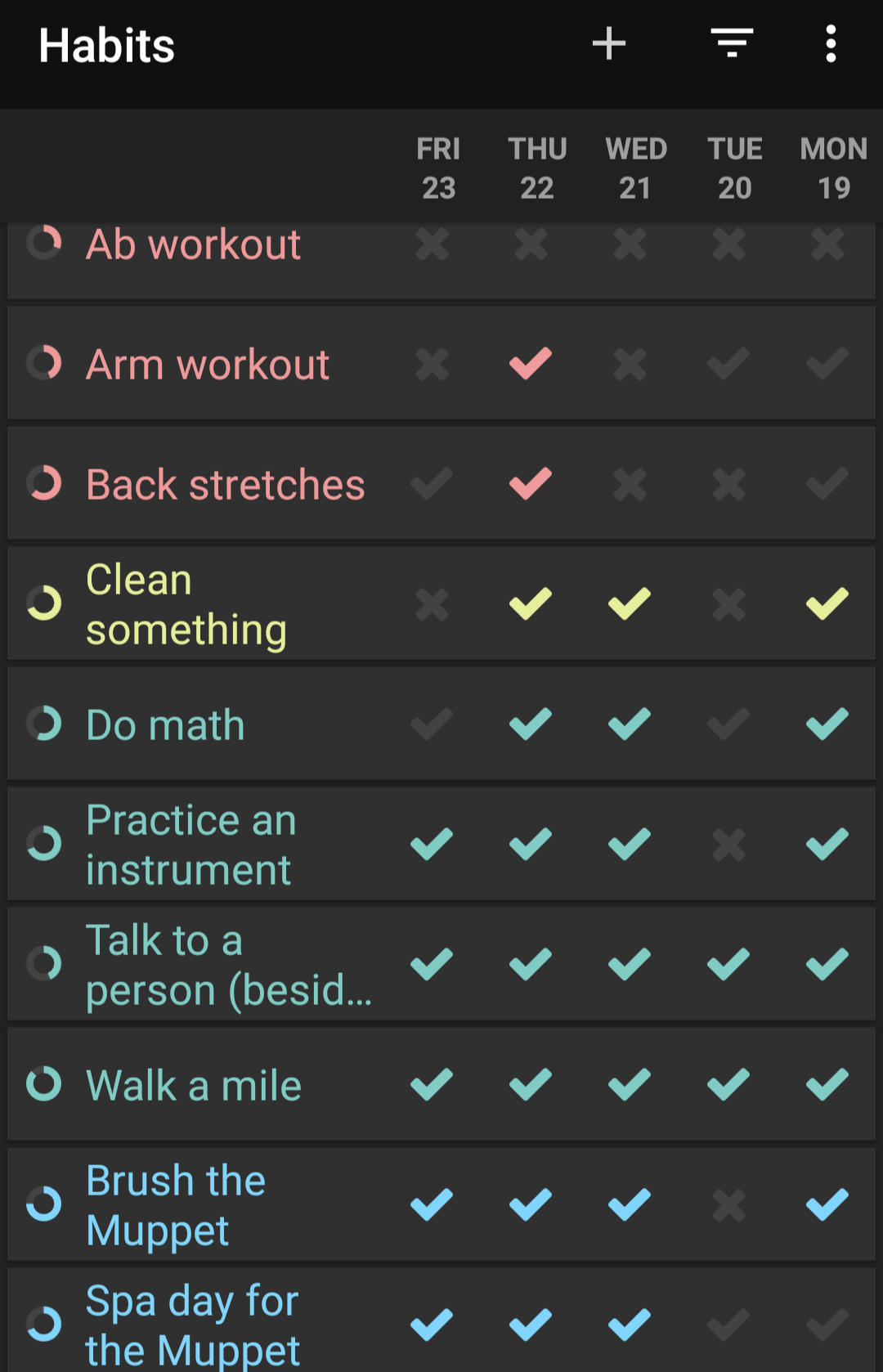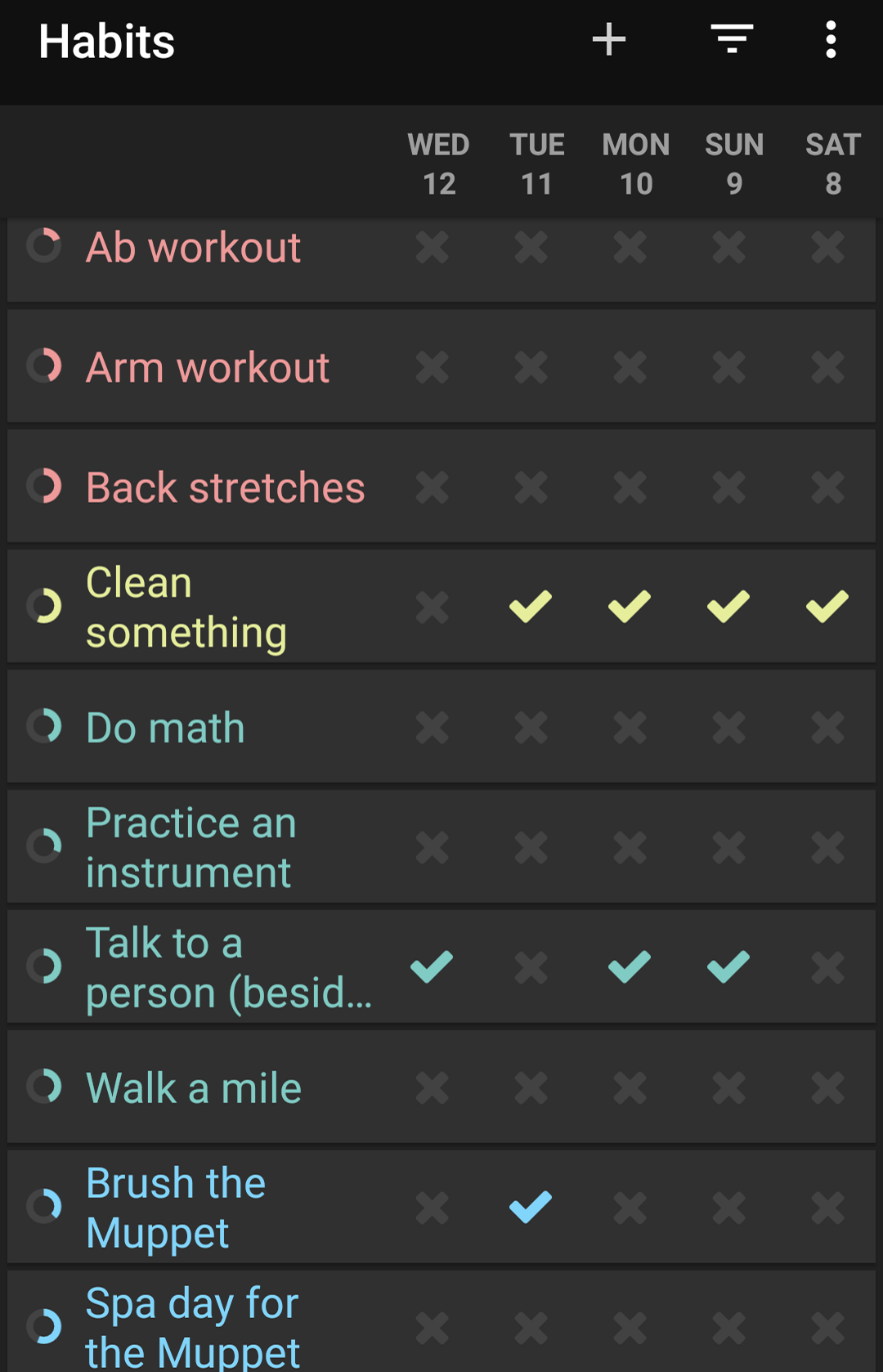 Before Surgery
During Recovery
I will probably keep using it even once my life regains a bit of normality.
Cognition
Since the primary motivator for stepping away from work was vision impairment, I started working to improve my "mental scratchpad" in case that remained permanent. While I could make do with reading English for short periods of time, relying on the brain's ability to fill in the gaps, code presented more of a problem. If I was able to improve my ability to take in symbolic information at a glance more rapidly and process it without relying on visual stimuli, I would be able to compensate better.
I started to work through some familiar math exercises on Khan Academy (we're talking high school level math) and made some progress. The trick for me was minimizing the use of a scratchpad and trying not to review the problems I was trying to solve. Scratching the analytic side of my brain felt amazing, and reinforcing mathematical knowledge is never a bad thing.
Oh, my partner and I also started doing crosswords again – sometimes he'd have to read the clues while we did them – but we just finished up a 2 month-long streak. Go us!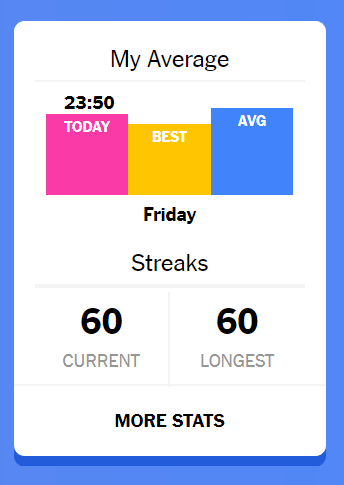 NYT Crossword Streak
You'd think that jigsaw puzzles would be terrible if your vision was blurry, but it's actually great practice in sharpening (pun intended) other problem solving skills and senses. I tackled these two fun, and very different puzzles.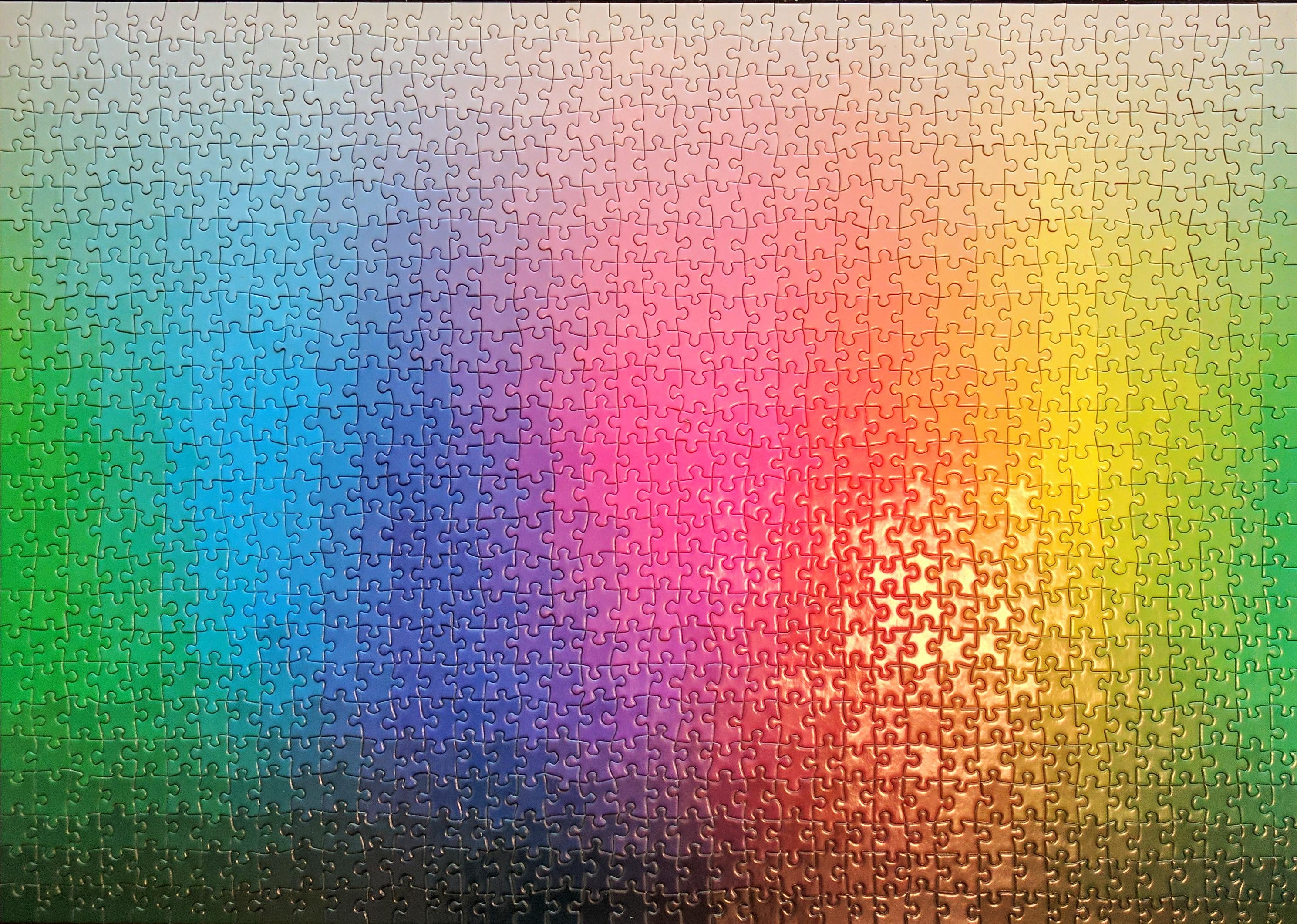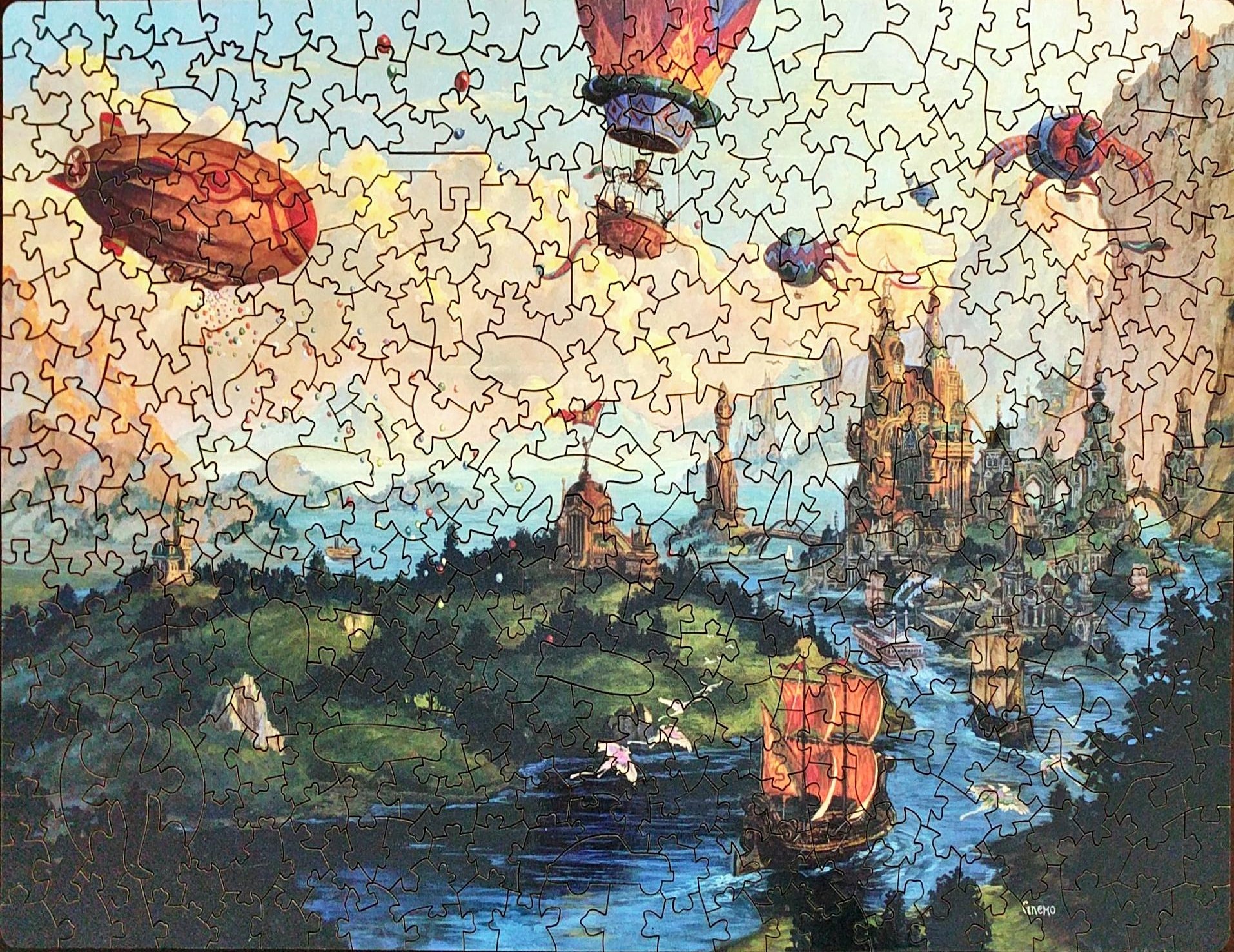 CMYK Puzzle
Wooden Puzzle
Structuring and planning for the future
Being so totally free from meetings and work sounds amazing but gets rather hard to cope with. Additionally, it gets really depressing having your only hard-and-fast commitments be appointments/tests/surgery. The lack of structure sits poorly with me, so I've divided the week into manageable chunks to make sure I have goals and dedicated time to accomplish them.
I've got a Trello board full of ideas for new projects that has only grown over the past few months. Some are frivolous (a bot dedicated to all things cephalopodia), some are borne out of frustration (a system to create smart seating charts), and some actually need a bit more thought before I get any further with them.
Similarly, I have another board for writing projects, including one full of sources for my "Anatomy of a medical leave" piece that I'd been working on before things got super bad.
We got married!
If the crafting section above didn't tip you off, there was a wedding not that long ago! It was a beautiful day, complete with Seattle rain and a rainbow as a special bonus. We were so thankful to be able to have so many friends share it with us.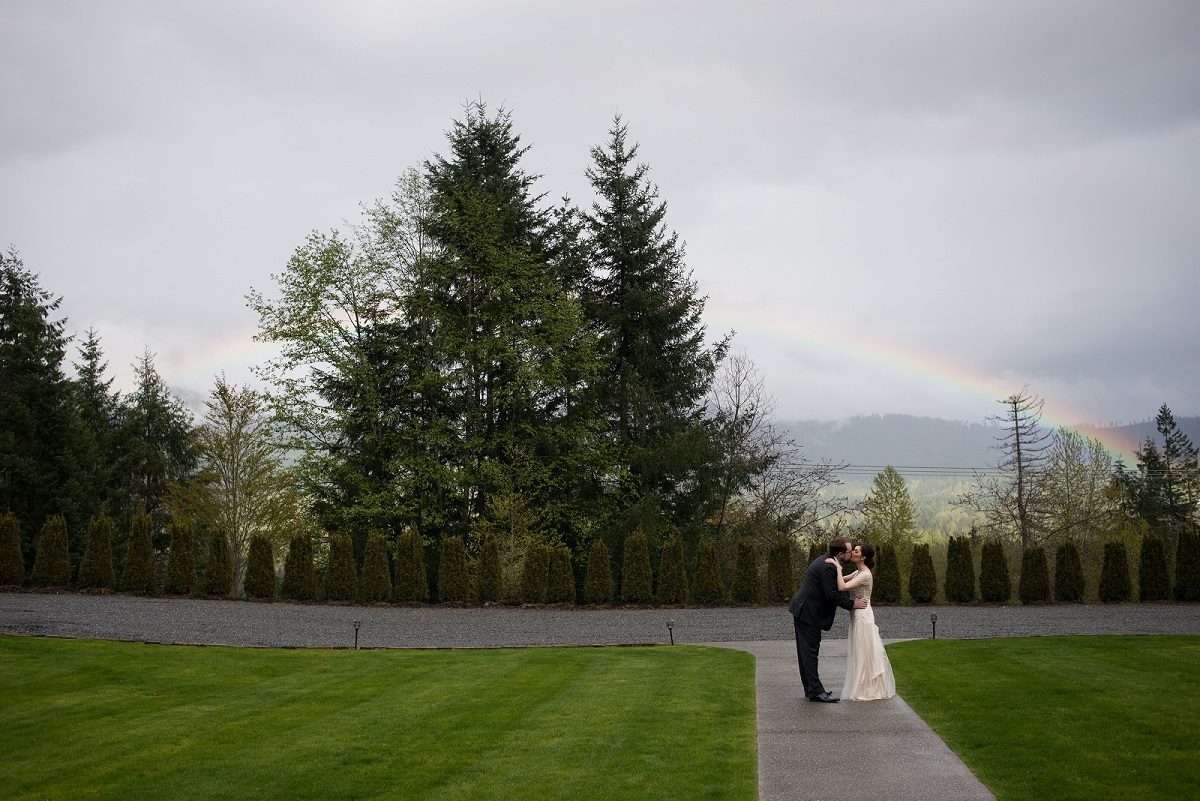 Epic Wedding Rainbow, photo credit to Theo Stroomer Photography
Onwards
So yeah. The past seven months have felt very much like I've been in limbo – not sure what kind of future I'd have. That said, it's been really amazing being able to get in touch with my creative side and work on some skills that I hadn't previously made a priority.
I think even as I rebuild my life, I'll be making room for more in it.